Online classes
Learn modern tonal harmony, piano composition/arrangement and piano improvisation.
Julliard System (New York). Beginners learn how to play the piano. Easy and modern method.
Hello, I am Alice Bromberek. I am a professional musician, opera singer and pianist with a master´s degree. I`ve been teaching music lessons for over 10 years and right now, I am a music teacher at the Chula Vista School of Music in San Diego, California. I teach Modern Tonal Harmony, piano composition/arrangement and piano improvisation. I used the Julliard school system (New York).
Learn how to play the piano easily and fast! I will teach you how to do it with a modern method and before you know it you will be playing your favorite song. I am also a voice teacher and, in my classes, I will show you the foundations of singing. It doesn't matter what style of music you want to sing. You will learn warm-ups and practice techniques, and about vocal placement and projection. We will also work on diction and interpretation.
I adapt to my students' necessities of learning. I know every student is different and I make my music lessons according to what they want to learn. I select material for lesson individually, according to my student´s wishes and abilities. Lessons are online.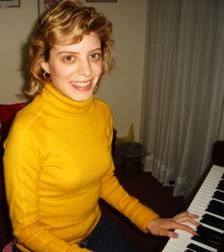 ONLINE LESSONS

A recent MIT (Massachusetts Institute of Technology) study found that online learning is just as effective as in-person learning. The internet provides a fantastic opportunity to learn from the comfort of your own home! With my setup, I am able to coach you just like we were in the same room together. We will be working one-on-one with sessions tailored to your specific needs.

For more information send us an email to:
info@moderntonalharmony.com